Feb 19th 2007
BIRELS DOMINATE AT FLORIDA WINTER TOUR - MINIMAX
Eris Filgueras wins three in a row at Florida Winter Tour on Birel C28CJ in MiniMax Class
Eric Filgueiras wins three in a row at Florida Winter Tour on Birel C28CJ in MiniMax Class
ERIC FILGUEIRAS CROWNED 2007 FWT MINIMAX CHAMPION
with 6 finishes in top 4 positions= 3 wins, 1 second, 2 fourth
Birel C28CJ is four wins in four races in Florida Winter Tour in MiniMax Class

Eric Figueras win first three rounds and Sage Karam wins Round #4 with Eric Filgueras in second place. Round #3 Birel finished 1-2-3 in MiniMax with Eric, Sage and Dore Chaponick. All drivers are on the Birel C28CJ chassis with 30mm axle. Stunning results, considering that both Eric and Sage are running MiniMax for the very first time. Our congratulations to all the drivers and good luck in the last two Rounds of the FWT at Ocala.
::::::::::::::::::::::::::::::::::::::::::::::::::::::::::::::::::::::::::::::::::::::::::::::::::::::::::::::::::::::::::::
Dec 2nd 2006
We have made some important changes to our website:
A "NEW KARTER" section was added. This is intended to be for the would be karter. Give a little history and introduction to karting.
Under the Birel section, we have added most of the upcoming 2007 models. Models R31SV, CR31SV and CMX32SV will be available for sale through us at just around Christmas.
Under the Easykart section, we have added the new Easykart 125cc shifter. Well overdue in it's introduction, but soon available in large quantities. The first Easykart shifter that came to the USA was on display at the Nascar race at Homestead in November. Another Shifter shipment is due to arrive around the 20th of December, limited quantities are available, so call now to reserve.
Under the Race Schedule section we have added the latest from the Florida Winter Tour. Soon we will post other South Florida tracks as they become available.
Thanks

Thanks to you all for calling and letting us know that the site was down. We have been trying to do an update to our site and have been working on our Online Store. We should be up with most of our major products in a short while, and thank you all for your patience.
See you at the track, next stop is the Rotax Nationals at South Bend, Indiana.
Rudy
_______________________________________________________________________________________________
RYSA Racing expands into a new larger shop...
June 2005
Late breaking news.... We have moved from Bay I to Bay A, the front shop at the same street address. We are now street side and this improved visibility will make it a lot easier for you to locate us. This is a larger shop, and highlights the continued expansion of RYSA Racing, as a dominant force in South Florida karting. This was a very much anticipated move, and a much needed one, as we had outgrown our old location. RYSA Racing had operated out of Bay I since 1998, and this expansion will re-inforce our position as the largest kart shop in the Miami area.
RYSA Racing will continue to offer ALL of our products and services, so please stop by and check us out at our new facility.
Rudy
___________________________________________________________________________________
Sorry for no updates on our racing results in last few months!!!
Dec 2 2004
Many of our customers have enquired and called on the lack of updates.
Well...here goes.... because of my need to tidy up my computer, I was deleting files and actually deleted the copy of the website off my laptop. So I have spent a few weeks, reconstructing from a very old backup. So here's the latest... enjoy...
Well in the last few months, a lot has happened, so here's it is in brief:
HURRICANE..... HURRICANE..... HURRICANE..... HURRICANE....
Yes, that's it.... well just kidding a bit.... it was tough and thankfully everyone pulled through and all's well here in South Florida.
Here are some racing highlights from the last few months >>>>>
Ryan Fowler won the 2004 Florida Easykart 125 Championship.
Kaitlin Mangham won the 2004 Easykart 125 Grand Nationals Title.
Josh Hurley won the South East Rotax International Grand Regional Championship. (umph... quite a mouthfull)
Josh Hurley finished 5th in Rotax International at the Rotax Nationals in Las Vegas.
Ryan Fowler finishes 4th in Stars Easykart 125 National Championship
Thanks for taking the time to read about and support our drivers.
Happy Holidays
Rudy
___________________________________________________________________________________________
Ryan Fowler wins the Pan-American Easykart race at Homestead. While, RYSA Racing drivers take four wins in five classes.
4-5-04
Drivers from many countries, such as, Colombia, Puerto Rico, Mexico, Ecuador, Guatemala joined the USA Easykart drivers at Homestead, FL to compete in the Pan-American Easykart Championships. Ryan had competed against some of these drivers before, both at the 2003 Easykart Shootout race and the Mexican Invitational Easykart race in Oct 2003. He was definitely one of the favorites coming into this weekend, as he had finished second in the pre-final of the Shootout and had won in Mexico.
All went well in practice on Saturday and Ryan took the opportunity to check out both the foreign and USA competition. Kaitlin Mangham, fresh from her ProMoto Tag win, was here and she and Ryan were both quick in practice. Seeing some action with Ryan was RYSA Racing teammate and reigning SKUSA FL G1 Champion, Robert Cao Jr., running an Easykart for the first time in 125 Heavy. Ryan and Robert discussed various kart set-ups, searching for that one best for this weekend's track conditions.
Sunday morning qualifying proved to be very close as there were four drivers all within a tenth of each other in Ryan's class, with Ryan sitting on the pole. In the prefinal, Ryan took the lead from Turn 1 and never looked back. For the final, Ryan again calmly drove away unchallenged, clearly showing his smooth driving technique to the large crowd. Another rewarding win for Ryan and another clean sweep weekend.
Ryan's other RYSA Racing teammates, Kaitlin finished fourth behind Ryan and Robert, after qualifying off-pole, finished seventh. Kaitlin had some motor gremlins on Sunday and was a bit off the pace. Robert was bumped in the pre-final and had to come from the back in the final. Johanna Godinez had a clean sweep in Rotax International and Bill Winchester took the win in Rotax Masters. Young Andrew Van Vurst qualified on the pole and won in Rotax Jr.
Another day for celebration in the RYSA Racing pits.
________________________________________________________________________________________
Can Artam signs with F3000 team Coloni Motorsport for 2004 season
3-30-04
Today, after a few weeks of testing, RYSA Racing team driver Can Artam of Turkey confirmed that he was selected on the F3000 team Coloni Motorsport to drive one of their cars in the 2004 Championships. Most will remember Can (pronounced as John), as one of our RotaxMax drivers. He was the 2002 FL RotaxMax International Champion and competed at the RotaxMax Nationals in Vegas in 2002. Can started racing with our Team back in 2001, turning his very first laps in a racing kart in one of our school karts. All of his time in karts were spent on RYSA Racing prepared karts. We wish him all the success and knows he will do us proud.
Follow this link to read the official announcement from Coloni Motorsport:
Can in wet testing at Silverstone, UK A focused Can in cockpit of F3000 car
Can(right) at 2002 RMC Nationals in Las Vegas
Kaitlin Mangham wins TAG Snr. at SKUSA ProMoto in Jacksonville, FL
3-23-04
Kaitlin uses the home track advantage and makes a name for herself at the highest ranks of TAG racing at the first round of the SKUSA 2004 ProMoto tour that started in Jacksonville, FL.
Kaitlin ran an Easykart 125 in the TAG Snr. class. Throughout practice she keep going faster and faster. On Saturday, she put her kart on the pole by four tenths and won the pre-final. In the final, she was drafted on the long Jacksonville straightaway to claim a second spot on the podium, but earning the race fastest lap.
For Sunday's event, Kaitlin missed the set-up and qualified fourth. She then came back to win the pre-final and set fastest lap. In the feature Kaitlin raced away to a nine second lead, setting fastest lap and taking the checkered flag to get her biggest win in karting. Showing some "girl-power" this weekend, fifteen year old Kaitlin looks forward to racing an Easykart in the 2004 Stars series starting in California in April.
CONGRATULATIONS to RYSA Racing drivers Robert Cao Jr. & Bill Winchester on their SKUSA Championships.
3-24-04
Our many congratulations to Robert Cao Jr. on his SKUSA Florida Winter Tour G1 Championship and to Bill Winchester on his SKUSA Florida Winter Tour Rotax Heavy Championship.
Both drivers clinched their respective Championships at last weekend's SKUSA Winter Tour race in Ocala. Coming into the weekend there was much tension for both drivers, as both needed wins in Ocala to clinch. Robert made this two years running for the G1 Championship and Bill makes this his first regional Championship.
Robert was quick in the practice on Friday and confirmed that by being off-pole for Saturday's feature. A shift linkage problem saw him lose the lead in the pre-final, but he came back to win the final to put him on top of the Championship hunt. For Sunday's race, he qualified on the pole, swept the pre-final and final to claim his second G1 Championship. He thanked Wanky, his mechanic, Luke Chiovitti of 3S Go-Karts, and Swedetech for his ICC TM engine package.
Bill was very determined to do well here and showed up at Ocala for Thursday practice, to dial-in his Birel. This was to be his second race weekend back on a Birel chassis and he needed to win here. With tuner Luke Chiovitti on his side, Bill calmly qualified on the pole for Saturday's feature. He drove away from the field in the pre-final and final, to make this a clean sweep and to put his name on top of the points chart for the Championship. For Sunday's feature, Bill was a little conservative and did miss his qualifying set-up a bit and wound up third. He ran very conservative races and finished third in the pre-final and second in the final to clinch his Championship. Bill was leading the final with two laps to go, when he allowed an aggressive pass to stick as he was thinking Championship. He actually started celebrating before he even took the white flag. Bill turns 58 years old this year, but looked like a teenager celebrating at the scales. "This one's for the old guys!!!" he shouted at the scales. he thanked Luke, Rodrigo Ferraz, and of course the whole RYSA Team.
Our thanks again to all our drivers for making this a fun Winter Tour and for adding another two Championships to our Team's resume. This marks six years straight for Championships in SKUSA Florida region competition. It also brings our total to eighteen Florida region Championships in every class that we have competed in.
For those of you that know our Team uniform, you may be familiar with the back of our tee-shirt that lists all Championships won by RYSA Racing drivers. Thanks Robert and Bill for putting us through the expense of changing our tee-shirts once again.
Florida Winter Tour Race at Palmetto by Josh Hurley #88
2-20-04
This was an important weekend for RYSA racing driver Josh Hurley, it was the debut of his new CRG chassis. Right out of the box the chassis handled beautifully. For the qualifying session on Saturday morning Josh was able to put the kart off-pole. Just before the prefinal the skies opened up causing the officials to declare wet conditions. Josh's tuner, Mike Roth, came up with a great rain setup with which Josh was able to finish second in the prefinal, despite it being only his second time in the rain. Conditions stayed wet for the final and Josh was able to bring home a second place finish.

::::::::::::::::::::::::::::::::::::::::::::::::::::::::::::::::::::::::::::::::::::::::::::::::::::::::::::::::::::::::::::::::::::::::::::::::::::::::::::::
FL State Rotax Championships at Palmetto, FL
10/15/03:
Six drivers from RYSA Racing took part in the first annual Florida State Rotax Championships at the new track in Palmetto, Florida. What a great facility this is, it's unique layout allowed for perfect viewing of the entire track from your pit spot. The weather was great and hospitality was very warm. Drivers from all three Florida regions were invited to compete and crown a State Champion in each Rotax class. Drivers were also competing for the Formula Kart Cup, a challenge trophy for the best Rotax region in Florida.
Ryan Fowler, fresh from his Championship run last weekend, was here confident to win the Rotax Junior Championship as well. Getting down to business, Ryan put his KartMini on the pole by hundredths. He then went on to win the feature with a flag to flag victory to win his second Championship in a week. What a way to close-out the year for seventeen-year-old Ryan.
In International, the line-up was Josh Hurley (KartMini), Jesse Singer (CRG) and Tim Breuer (KartMini). After qualifying, it was Josh in fifth, Jesse in tenth and Tim in sixteenth. In the Pre-final, all three drivers moved up and started the feature in fourth, fifth and twelfth respectively. In the feature, Jesse had a bad start as he fouled the spark plug and could not get the engine running smoothly and had to pull off. Mean while, Josh was driving hard moving up to the front but caught lapped traffic and could only seriously challenge for the win in the last two laps. His well-deserved effort yielded a second place. Tim battled in mid-pack throughout and finished in eighth place and admitted he had a great weekend, as he enjoyed the close racing. Also in International was our KartMini dealer, Nick Weil of Speedquest, who qualified sixth and finished third behind Josh.
In Masters, Bill Winchester qualified fourth and Doug Bernard qualified fifth. These KartMini teammates were destined to affect each other's weekend in the Pre-final. Just as the race had settled down, Bill went for a pass on the fourth place driver and went a little too deep at the end of the straight and ran over the top of Doug and both drivers crashed out. Doug rejoined, only to pull off into the infield with a badly cut left hand. After getting some care from the Paramedics, Doug used some duct tape to secure the bandages and started the Final on the last row. Both him and Bill patiently moved their way through the field and finished well. Bill got up to fourth and Doug finished seventh.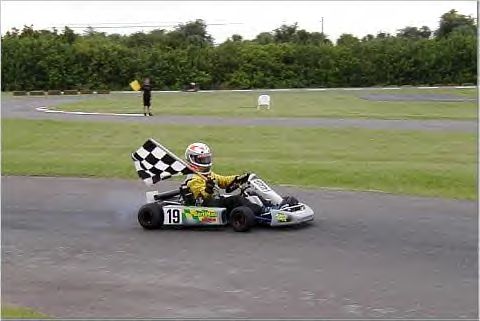 Ryan on his victory lap
___________________________________________________________________________________
FL State WKA Championships at Ocala, FL
10/7/03:
In one race weekend RYSA drivers, Fowler & Mengham, wrap up 4 WKA Championships.
The last round of the FL WKA Championship would prove to be very exciting for drivers from RYSA Racing. Both Kaitlin and Ryan arrived at Ocala in a close points battle for their respective Easykart Championships. All top contenders were present and it's all going to be decided at this race.
In the Light Class, Ryan encountered mechanical problems in practice and had little time for set-up changes. Another set back for qualifying was very frustrating, then finally a break, as the entire Light field had to re-qualify. This time around Ryan put it on the pole. The heat race saw Ryan leading for five laps and then dropping back to third in the remaining laps. The pressure was on Ryan, as he had to do better in the feature. On the start of the feature, Ryan jumped to second and held this position as the race laps wound down. On the final lap, Ryan positioned himself to make a pass in Turn 1 and went side by side in the next three turns until finally taking the lead and the Championship.
In Easykart 100cc, Kaitlyn needed to finish on the podium to take the Championship. She qualified off pole and had a great heat race to finish
Ryan's champagne celebrations at Ocala Kaitlin giving acceptance speech on the podium
________________________________________________________________________________________
Rotax Nationals at Denton - ahhhhh !!!!!
9/30/03:
How was our race weekend you may ask?
How about Ekartingnews reported that we got the Hard Luck Team award !!!!!!!!
Let's put it this way... Rysa Racing put the "Dent" in Denton !!!!!!
Josh, Bill and Ryan showing off some damaged parts...
At the end of it all, Ryan Fowler in Rotax Junior came away with a 10th place finish, after flipping in the first heat.
Josh Hurley in International finished 8th in the LCQ and consequently missed the feature by 2 spots, Josh passed 22 karts in this race. Josh had a massive flip in Turn 1 in the first heat. Most of us at the track was able to see a fantastic picture by Bill Heck, which we cannot publish as yet, as Bill is trying to sell to one of the magazines. Let me say this.... a KartMini can fly !!!! Josh missed the second heat since he was repairing his kart and started the LCQ from the last row.
Jesse Singer, our only driver who did not crash, finished a well deserved 23th place in International. Jesse was running in 18th place a few laps before the end of the feature and dropped a wheel and fell back.
Our two Masters drivers had their own adventures. A Thursday practice crash destroyed Bill Winchester's radiator and had him bleeding from his back and both his arms. Bill was able to struggle though his heat races and finished 16th in the Pre-Final. As it turned out, the same offending driver who crashed him on Thursday also took him out in the feature on Sunday when Bill was running in 10th place. Doug Bernard, was also not hurt but had another driver run over the back of his kart in one of the heats and started the Pre-Final at the back. He was also penalized for not honoring the blue flag and started the Feature in last place. Doug came back to finish in 15th place.
This accounts as one of most disastrous race weekends for our Team.
RYSA Racing's Rotax Teams prepares for Nationals in Texas
9/21/03:
All drivers and mechanics are anxiously finalizing all preparations for the Rotax Nationals at Denton, Texas this coming weekend. After finishing Top ten in all classes last year, we hope to improve and maybe grab the big trophy this year. Our KartMini Driver line-up are Ryan Fowler in the Junior Class, Josh Hurley in the International Class and Doug Bernard and Bill Winchester in the Masters Class. Our fifth driver, in the lone CRG kart, is Jesse Singer. Some members of our Team and our official Test Driver, Anthony Massari, will arrive on Monday, a few days ahead of official practice days. Hopefully, the entire Team will benefit from a few extra days of testing. Well wishes to all of the RYSA Team at Denton.
Ryan Fowler gets TWO Championships
8/30/03:
Ryan's performance in his last few races have been exceptional and have produced TWO Championships at Homestead Karting here in South Florida. Ryan wrapped up the Easykart 125 Light Championship and the Rotax Junior Championship both at this weekend's race.
Ryan will now be looking forward to the Florida Championship for Easykart and the Rotax Nationals. The Rotax Nationals will be in Denton, Texas on the weekend of Sept 26th to 28th. Ryan has a shot at representing the USA at the World Finals in Egypt, if he wins here. The Florida Easykart Championship will be in Ocala the weekend of Oct 3rd to 5th. Getting wins at both these evens will be quite a mark in his resume. We hope to give Ryan our fullest support to ensure that he finishes well at both these races.
Ryan Fowler WINS !!!!!! and WINS AGAIN !!!!!!!!!!!
7/23/03:
At this weekend's Homestead Club Race, Ryan finally got that elusive first win in the Rotax Junior class. To prove that this win was no fluke, he backed it up with a "come from behind" win in the EasyKart 125cc Light class. Both within a half hour of each other.
When they did come, Ryan made these wins seem easy. "Getting the monkey off his back" took him quite some time, but never had anyone doubted his ability nor his talent. During the past SKUSA FL Winter Tour, Ryan had 3 poles and 3 fastest laps in four races. This enabled him a third place finish in the Rotax Junior Championship.
Ryan spent all of Saturday's practice breaking-in a new Rotax Junior engine and also a rebuilt engine on his EasyKart 125cc. So his first sessions at speed were on Sunday morning practice, hence getting very little time for chassis setup. Ryan trusted that his KartMini Supremo chassis will be on pace when he needed it to be. On the final Rotax Junior practice, he mounted a new set of rubber and went as fast as the existing track record. Ryan said to his Dad, PJ, "don't touch anything... it's perfect." After all was done at qualifying, Ryan sat on the pole and had lowered the Rotax Junior track record by 2 tenths.
Now comes Ryan's only glitch of the weekend. For qualifying, in the rush of doing 2 classes, the tire pressures on his Easykart were not set properly and Ryan qualified ninth. Not being put off by anything, he focused his attention on the Rotax Junior class and easily won the pre-final. In the Easykart class he moved up four spots in the pre-final. By this time, Ryan was feeling the pressure of running two classes in the 95 degree temperatures. Both him and his Dad were exhausted, but were looking forward to the feature races.
The Rotax Junior race was not a problem, as Ryan took the lead at the start and lead every lap to get his first karting win ever. There was little time for celebration, as Ryan was on grid for the Easykart 125 Light feature. This class has always been very tough and Ryan kept thinking of something he was told a while a back, "when you get the first win... you won't stop winning." As it turned out, Ryan put on a show coming forward from fifth place. With three laps to go he was back in second, but the win was all Ryan could think off. Ryan was all over the leader in the Carousel, and finally made the pass on the exit of the left-hander leading onto the back straight. Ryan punched his fist into the air as he crossed the finish line for his second win of the day.
What a day for this sixteen year old. Congratulations came from all around the paddock. Ryan spent the rest of the evening with his team just walking around saying "I did it.... I finally did it.... and I won two...." Ryan's Dad had another point of view, saying " I didn't know it was going to be so much work running in two classes... I am tired."
RYSA Drivers Chino Vidal & Robert Cao @ ProMoto in Texas
6/15/03:
Saturday's Races
Our ProMoto Team arrived at Dallas with great expectations after a few weeks of preparation in Miami. Much anxiety also prevailed, as Chino and Robert were eager to try their new SuedeTech Hondas. Friday practice went well enough, considering the changes in the weather throughout the day. In the Saturday morning's warm-up, Chino was 2nd fastest and Robert was 8th fastest. When Saturday S1 qualifying was finished, Chino was fast enough to qualify in the 8th spot. In Super G qualifying, Robert was third fastest. However, officials claimed he did not report to tech, so his time was disallowed and he started the pre-final at the back of the field. In the S1 pre-final, it was close racing and a little bumping incident resulted in Chino finishing 8th. Robert had his hands full starting at the back of this large Super G field. Robert picked off enough drivers to end up 11th.
Before the 25-lap Feature, both drivers spent time with their respective tuners adjusting the karts so as to improve on their pre-final finishes. By the end of the day, Chino had quite a race and finished in 5th place. Robert continued his move up through the field and finished in 6th place. Robert had to wonder how costly it was to have his qualifying time disallowed.
KARTMINI Dominates @ Jacksonville Florida RMC Race
4/13/03:
The opening round of the North Florida Rotax Max Challenge was a great success for SpeedQuest, our Central Florida KartMini dealer.
After a 10 minute Qualifying session, in the International Class, Nick Weil qualified his Kart Mini on the outside pole, and Brian Fletcher qualified his Kart Mini to a solid third on the grid. In the Masters Qualifying, Michael Barker continued his domination of recent Rotax events by taking the pole on his Kart Mini chassis, followed by Russell Seifert on a Kart Mini in third place.
The Feature Event saw at least 10 lead changes in the 20 laps main and included a 15 minute red-flag while a driver and his kart had to be removed from the haybales at the beginning of the straightaway. Brian Fletcher and Frank Gyuru battled it out in the closing laps, but Brian was able to maintain the lead and take the win for Kart Mini in just his first outing on this chassis. Nick Weil was able to overcome some handling issues incurred to his kart after meeting a fence post in qualifying and was still able to finish 4th place.
Kart Mini also swept the top spot in the Masters class with Michael Barker taking the checkered flag first and Russell Seifert finishing in Third for KartMini.
All drivers commended Nick Weil, the owner of SpeedQuest, on his fine Rotax engine tuning and were very happy with the performance of their new rides on the KartMini chassis.
Rysa Racing at Homestead Club Race - KartMini clean sweeps
4/13/03:
This weekend was another fantastic race weekend for the Rysa Racing Team. The crew worked very hard as there were a total of 15 drivers on our team.
Atticus Missner put his Kartmini shifter on pole, just barely edging out Teammate Ricky Lehman on his Birel. That makes a Rysa Racing one-two in qualifying in Semi-Pro Shifter. In the main Ricky got off to a great start beating Atticus to the first corner. Atticus, not to be outdone, got by Ricky a few laps later. Atticus and Ricky were soon engaged in a heated battle but while leading Atticus clipped a tire barrier on the exit of 4 that sent him spinning. Ricky who was following closely had nowhere to go and crashed with Atticus. They both recovered but went to the back of the field, however both showed that they are capable of running up front and both Atticus and Ricky are confident going into the next race.

In the Rotax RMC International class, Pedro Jacobsen qualified on the pole with fellow KartMini driver Can Artam in second. Tim Breuer in the third KartMini in the field took the fourth starting spot. In the feature, Pedro slowly pulled away from Can and was unthreatened to the finish. Can however had his time preoccupied with fellow Rysa teammate and defending Homestead RMC Champion Alvaro Otoya on his Birel. Another heated battle formed until Alvaro made a mistake on the entry to the "carousel" and had to pitch the kart to avoid hitting Can. This dropped Alvaro back and made way for Tim Breur to finish third. A great job for Tim as this is only his third race ever. The KartMini team were very pleased with a clean sweep of the International class podium.

In Rotax Masters, Doug Bernard put his Kartmini on the outside of the front row, while Rysa Racing's Arrow pilot Jeff McLane qualified in fourth place. After a busy feature and a lot of hard racing Doug and Jeff finished in second and fourth respectively.
Rysa Racing at Florida Winter Tour @ Jacksonville
KartMini finishes in top 3 in each SKUSA RotaxMax Class Championships
3/23/03:
The KartMini Team rejoiced after the fifth race of the SKUSA Florida Winter Tour as all KartMini drivers finished in the top three of their respective Championships. Quite a reason for celebration, as this is the first time the KartMini chassis were raced in Rotax competition in the USA. Ryan Fowler finished in third place in the Rotax Junior Championship, Josh Hurley finished second in the Rotax International Championship and Doug Bernard finished third in the Rotax Senior Championship. All drivers thanked their tuners Ricardo Legree and Rodrigo Ferraz for there fine performances on their KartMini chassis. Many thanks also were sent to Louis D'Agostino and Oswaldo Negri of KartMini of America for their support and advise.
Rysa Racing at SKUSA Winter Tour Race Rd #4
3/10/03:
The Rysa Racing - KartMini Team at Ocala for SKUSA FL Winter Tour Race Rd #4
When the Rysa Team trailer arrived at the Ocala track on Friday morning it was already raining. The forecast was for more rain throughout the weekend. As it turned out the weather pattern for the entire weekend was alternating conditions of rain and dry.

On Friday it rained all day, so Ryan Fowler and Josh Hurley used the practice to work on their rain set-up. By the end of the day they were both fastest in their class on wet tires. Saturday started with rain again, but dried by lunchtime. This left only two practice sessions in dry conditions before qualifying. By qualifying, Ryan was still fastest and consequently took the pole in the Rotax Junior class. This makes his third pole in four races. Josh in Rotax International, managed only an off-pole starting position and made this the third time in four races he started on the front row. In Rotax Senior, Doug Bernard struggled with the changing weather conditions and only managed a 10th place in qualifying.

On Sunday, it was raining again and the first round of heats were in the wet. Ryan bogged at the start and never recovered to finish his first heat in 2nd place. Josh, made an improper jetting choice and saw himself going backwards to a 6th place finish in Heat 1. Doug struggled a bit in the wet as he had very limited track time on Saturday and finished 8th in Heat 1.

The weather created more turmoil for the second round of heat races, this time the Rotax Juniors were sent out on a drying track with wet tires. Ryan finished 3rd but went a full 8 tenths quicker than anyone in Heat 2. In Josh's second heat, he had stuck throttle cable and crashed in Turn 1. He recovered to finish 10th and in the process he set the race fastest lap. Doug managed to finish 7th, still having an off weekend.

By the time the features started the sun was out and the track had dried. Ryan started from off-pole and immediately threatened for the lead. Most of lap two was spent battling side-by-side with the pole sitter and eventually Ryan became a little too aggressive going into Turn 5 and he overshot his breaking and spun his kart. He recovered in last spot and spent the rest of the race passing karts trying to get back to the front. In doing so, he was visibly the fastest kart on the track. He finished in 3rd place getting the fastest lap by more than half a second on the winner. Ryan left Ocala learning a valuable lesson about patience.

In the Rotax International feature, Josh started from the 4th row and quickly moved through the field and closed in on the leader. He tried to catch the leader and set the race second fastest lap by 5 one-hundredths of second. Josh finished 2nd.

Doug in Rotax Senior finished in 9th place and claimed to never get in control of the changing conditions this weekend. Doug has the full support of the Team and everyone knows that being the oldest competitor in the region it is a privilege to have him as a Team member. Doug turns 60 years old in a few weeks and is the defending FL RotaxMax Masters Champion. Doug now sits in second place in this Championship. Ironically, the winner of this weekend's race and the current points leader is less that one-third of Doug's age.
Rysa Racing at SKUSA Winter Tour Race Rd #3
2/07/03:
2 Poles - 2 Off-Poles and 1 HUGE Win in S1
After a bad weekend (by our standards) at Ocala at Rd #2, all our drivers were busy all day on open practice on Friday. Both Chino Vidal (S1) and Ryan Fowler (Rotax Jr) were trying new combinations and were fast from the get-go. Chino on his new Birel CR32S chassis and Ryan teamed up with tuner Rodrigo Ferraz (a former Brazilian National Champion and ex-factory KartMini driver). As it turns out both of these drivers had very good weekends. Both Chino and Ryan qualified on the pole by three-tenths and looked like dominating the weekend.
CHINO: As racing luck will have it, Chino made a huge mistake in the first heat and had to start the feature from the last row. Sometimes, you have to remember that old phrase "it isn't over till the fat lady sings", for it seemed that Chino was determined to prove to us all that is an understatement. Starting from the back, Chino got through the field kart by kart out-motoring and out-handling all others. An incredible display of patience and driving skill saw him running fastest laps by the half-way point. When he caught 3rd place by lap 15, we could sense the anticipation from the entire crowd. The crowd was rewarded by another pass and another deep-braking move on both 3rd and 2nd place. At this point, our team was hysterical, as it was obvious that he was going to catch the leader. As he caught and passed the leader, the entire crowd was all cheers. What a popular win for Chino, certainly his most gratifying ever. On the podium, Chino thanked his tuner Willie Shim Ping and his dad for their support, off course not forgetting to mention how good his NEW BIREL kart was.
The rest of his Birel Team mates were not rewarded with similar results. Robert Cao finished second in the feature after blowing-up a motor in the first heat. Robert's salvation was that he had fastest lap in all races. Ricky Lehman, qualified 3rd and unluckily found himself in the first lap melee that took out half of the FMX field. This made way for another RYSA driver, Michael Copperthite, to land his Winter Tour podium, a third place. Michael himself seeing some ill-luck as he had lost a lower rod bearing in the second heat.
The KartMini Team: Ryan Fowler did his pole dance again today, as this made his second pole in three races. The young driver started on the pole for the first race and got a bad start as the kart bogged at the start. Maybe as a result of the flagman bringing them too slowly to the start. He went back a few spots and then climbed his way back to a second place in the first heat. Starting off-pole in the second heat, he got into a first corner accident resulting in him getting his radiator knocked off by the kart behind. With this DNF, he started way back in the feature. Ryan did not give up and he drove hard to finish a well deserved second place. In so doing he set the race fastest lap. This helps keep Ryan in second place in the Rotax Jr. Championship.
Josh Hurley (Rotax Int.) did a splendid job of qualifying off-pole. Josh decided to try a different gearing and fell back to sixth place in the first heat. For the feature, Josh changed his gearing back to original and sorted out his carburetion problem from the second heat and finished fourth . A very good finish for this first year driver, and a deserving spot on the top of the Rotax International Championship standings after three races.
Doug Bernard (Rotax Masters) had a very poor qualifying run, as his kart got very tight on the new tires. By the second heat he only improved his position a few spots, but by the feature he had sorted out his problems and had his fastest official times. Doug fought hard to recover to a fifth place finish in the feature. Doug is now tied for first place in the Rotax Masters Championship.
All three drivers were pleased with their KartMini chassis and thanked their Brazilian tuners Rodrigo Ferraz and Ricardo Araujo.
Rysa Racing at SKUSA Winter Tour Race Rd #2
1/20/03:
The Rysa Team did not have a great weekend, but we kept going nevertheless.
In the Birel camp: Robert Cao (G1), was able to clean sweep his class, inspite of having a small motor problem. Chino Vidal (S1) had a terrible weekend, not only having slower traffic kill his qualifying effort but having two mechanical DNF's in the first heat and in the first lap of the feature. Ricky Lehman (FMX), was quick throughout the weekend, but found himself in incidents in all of his races. He eventually finished out of the podium.
In the KartMini Camp: Ryan Fowler (Rotax Jr) qualified 4th and finished 2nd in the feature. Josh Hurley qualified 5th and finished 7th in the feature. Doug Bernard (Rotax Masters) qualified 4th and finished 8th. That made young Ryan the highest finishing KartMini driver at Ocala.
Rysa Racing at SKUSA Winter Tour Race Rd #2
1/07/03:
The KARTMINI Team is busy preparing for this coming weekend Jan 10 - 12th for Round #2 of the SKUSA Florida Winter Tour at Ocala. The mechanics at RYSA Racing are busy servicing and preparing the karts for Doug Bernard (Rotax Masters), Josh Hurley (Rotax International), Ryan Fowler (Rotax Jr.) and Atticus Missner (S1).

Atticus is hoping that a possible scheduling conflict with his Barber-Dodge testing schedule does not keep him from this race. Atticus has already had to use Anthony Massari as driver substitute at Homestead due to a bruised rib. Anthony has been RYSA's development driver for the 125cc KartMini shifter, and he brought home the KartMini in 4th place in S1.

All eyes are looking towards Doug, the 57 year old defending Champion in the Florida Rotax Masters class. Doug sat on the pole at Homestead and had a clean sweep to take an early lead in the championship. Josh, our Rotax International pole sitter at Homestead, in his very first Rotax Race, is anxiously looking to repeat his pole position and hoping to improve on his second place finish. Young Ryan Fowler, is hoping to do his "pole dance" again, and has been getting as much seat time on the Rotax Jr. with the hopes of pulling off the win this time around. This was Ryan's first race in a Rotax Jr.
The BIREL Team hopes to improve on the finish of S1 driver Chino Vidal (2001 SKUSA FL MX Champion). The team has spent hours preparing after Homestead. Robert Cao, our G1 front runner is looking to repeat his performance at Ocala. Jesse Singer, the third place finisher and off-pole starter in Rotax International, has been getting a lot of seat time at our facility at Mega Racing Speedway preparing for Ocala.
Rysa Racing at SKUSA Winter Tour Race Rd #1
12/16/02:
4 POLES and 2 WINS (clean-sweeps) tells the story at Homestead in December.
The KartMini drivers sat on top after qualifying in all three Rotax classes. Doug Bernard, controlled the Rotax Masters class and had a clean sweep for the weekend. Josh Hurley on his new KartMini mount in his first Rotax International race got the pole and finished second in the final. Ryan Fowler in his first outing on a RYSA Racing sponsored KartMini/Rotax Jr. got the pole in his class and was running well in the feature until some engine problems set him back to 7th place.
Robert Cao, our star from the Vegas SuperNats, continued with his fine form and had a clean sweep in the G1 class, leaving all others to wonder if there is any chance to catch him. Robert sat on the pole by 3 tenths on his Schroder powered Birel. Teamed with Juan Carlos, our winning mechanic in S1 during the 2001 SKUSA ProMoto Tour, Robert is hoping to continue ascending the ranks in the G1 class. He is currently ranked 10th place in the latest ShifterKart Illustrated driver ranking.
Rysa Racing at Las Vegas @ RMC & SuperNats
11/06/02: RotaxMax Nationals Results
Rysa Racing took 11 Rotax drivers to the Nationals. The shop supported a seven (7) driver KartMini team. The top KartMini drivers were Joseph D'Agostino who finished 7th in Junior, Robert Cao Jr. who finished 8th in Masters, and Pedro Jacobsen who finished 5th in International. This race provided the first national exposure for the KartMini Supremo chassis.
Rysa's Birel drivers Alvaro Otoya (Homestead Champion) took 16th place in International Class and Bill Winchester took 9th in Masters. Rysa's Arrow kart driver Ezine Ng finished 25th place in the International Class.
SuperNats Results
Rysa Racing debuted the new KartMini Supremo 125cc chassis in S1. After an initial shakedown at a Homestead Club race, we decided to have a go at S1 at the SuperNats. This again being the first national showing for this kart. Anthony Massari had a very good showing with a hard fought 14th place finish, after getting into a first lap incident in the feature and getting knocked back to 31st place. Anthony moved through the field, lapping at 2-3 tenths of the pace of the leader.
Rysa's Birel entry was in G1 with Robert Cao Jr. Robert was the runner-up from the SKUSA Florida Winter Tour but he did not do the ProMoto. Hence, he was looking forward to going up against all the well-known G1 drivers. He was quick throughout practice and sat on the pole for a period during the 15 minutes qualifying session, eventually ending up 3rd. He started the main in third, dropped back on the start and worked his way back to third at the finish. In doing so, he set a number of fast laps.
For Rotax competition Rysa decided to enter a last minute entry with Rafael Matos in a KartMini to start alongside Jesse Singer and William Winchester both on Birels. Rafael saw the track for the first time in qualifying. He qualified second and finished second in the final. Jesse rounded off the podium with a fifth place for Rysa Racing.
Rysa Racing includes KartMini into lineup...
Rysa signs as first official KartMini dealer in USA.
6/30/02 -- Rysa Racing has just concluded a deal with KartMini of America, the North American importer of the top selling Brazilian chassis, KartMini. This came as no surprise, as the Miami kartshop has been testing and helping to develop the new KartMini 125cc shifter kart.
Lou D'Agostino and Oswaldo Negri Jr, owners of KartMini of America, have opted to do business with Rysa Racing as it sees Rysa as a vibrant leader in the karting business in the Florida area.
Rysa Racing expands yet again with Arrows...
The Miami kartshop has signed on as the Florida dealer for Arrow Karts
5/21/02 -- Rysa Racing has just signed a dealer agreement with CRC Racing and BTK Motorsports to become the Florida dealer for the Australian made Arrow Karts. Ric Crews, the importer, is happy to have Rysa Racing on board as he sees the Florida market to be an important one. In working with the folks at Rysa, he will have the best of the region representing the Australian line.
Arrow Karts won the RotaxMax International in Malaysia earlier in the year. The company has developed a 125cc Shifter kart especially for the US market.
Rysa Racing gets 3 regional championships...
Miami kartshop finishes SKUSA Winter Tour with a few NEW Champions...
3/18/02 -- Can Artam the 2002 RotaxMax FL SKUSA Champion, Doug Bernard the 2002 RotaxMax FL Masters Champion and Chino Vidal the 2002 125cc FMX FL SKUSA Shifter Champion have a few things in common. They all made it to the top of their game and they are all customers of RYSA Racing.
Another good Winter Tour in the Florida Region, another 3 championships. This Miami team sets the standards for kart preparations, race support and customer service.